Women of Wellness Support Group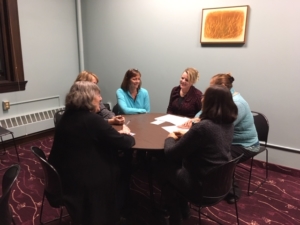 Harvard conducted a study that revealed the number one factor that determined success in changing eating habits was "getting support". My 4-month program offers step-by-step knowledge and support around upgrading the way you nourish yourself. Additionally, I offer follow-up support after an individual program to help you stay accountable and continue to improve your health. And I'm excited to share that I also offer a FREE support group of like-minded women called The Women of Wellness to enable you to connect with other women focused on improving their health.  I lead five meetings a year. Check out the details below.
Women of Wellness Meeting Details
We meet at the Carondelet Center, which is located next to the campus of St. Catherine's at 1890 Randolph in St Paul. There is a large parking lot adjacent to the building. The meetings are held on Friday evenings from 6:30 pm – 8:30 pm in Room #102. The meeting is comprised of a member speaker who shares their experience of improving their health, I speaking on a new topic, and then each person gets an opportunity to share. Lastly, we wrap up with some small group sharing. This meeting is FREE if you are a current or past client (or a new client waiting to start). The meetings range in size from 10 to 20 people. If you feel shy about attending, know that you can pass during the sharing portion of the meeting. It's a warm, kind group of women who are supportive and motivated to grow.
2019 Women of Wellness Meeting Dates: January 18, March 15, May 17, September 20, and November 15
Clients regularly share that they are happy they attended and felt energized by the other women. During these meetings, women allow themselves to be vulnerable in this safe space and they share from their heart. It's lovely to watch the healing that happens in the room when they learn that others are struggling with the same challenges around food.
The Women of Wellness group has a private Facebook page so that the women can share and connect anytime, even when we are not meeting in person. Within the Facebook group, the women enjoy sharing a success, connecting when they are struggling or sharing a new, delicious recipe. This Facebook page is private and has the highest level of security. Once you've signed up for an individual program, you can email me and ask to be added to this group. Also, it's important to know that your level of participation is completely up to you. There is no required participation. You can engage in the group at a level that feels right for you. Please know I do post last minute openings in this group as well. So it's helpful to be a part of the group.
I hope to see you at our next meeting!